We offer a Variety of Farm style fencing Including
Welded Pipe, No Climb Horse , Barbed Wire, Hog, Wooden Rail , Cattel Panel , Field Fence (multiple styles for field fence), High Fence for big game ranches, and more.
Most fences will average 4ft tall but we have built them up to 8ft tall depending on fence intentions.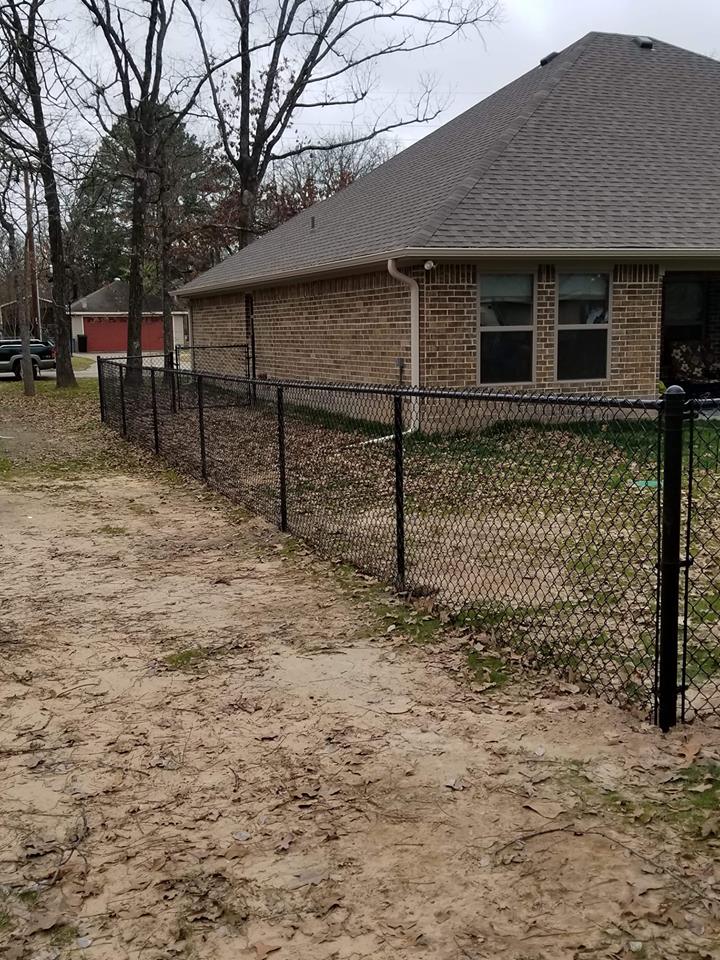 Chain link remains a popular fencing product with many home and business owners. Chain link is commonly used around parks, athletic fields, schools, warehouses, businesses and constructions sites, but you find it most often securing America's backyards.
Having a chain link fence installed around your property is one of the easiest and most cost-effective ways to provide security. We provide chain link fences in galvanized steel, which is long-lasting and can remain rust-free for years, or vinyl coated, which can add color and will remain rust-free.
A chain link fence is excellent for security because of the openness of the fence. No one can hide behind a chain link fence. However, if security isn't as important as privacy, you can easily turn your chain link into privacy fencing with the use of vinyl slats. Many of our customers will use color chain link systems in less visible areas of their property and ornamental fencing in more visible areas.
Call us to schedule an on-site evaluation of your property. We'll be sure to find you a chain link fence to fit your needs with the variety of styles, colors and sizes we sell.
We start with quality wood when designing your wood fence, using Treated, Redwood, or Cedar. Wood fences offer a variety of design features that other types of fencing don't, including
Natural beauty of raw wood
Ability to stain finish or paint
Secure sound blocking
Opaque for visual privacy
We specialize in providing top-quality, all natural wood products. We can custom design any project to suit your needs. From the early design stages to final installation and follow-up maintenance, we are there for our customers from start to finish, with a sterling customer service reputation.
WOOD FENCING IS IDEAL FOR THE HOME
There are several inherent features of wood that make it an ideal fencing material for a residential project. For backyards, an opaque wooden fence gives you peace of mind by keeping both the kids and the pets contained without worrying about them slipping through the grates. Also, the element of privacy offered by an opaque wooden fence is nice for backyard barbeques, private parties, and private lounging. Finally, wood materials are less expensive than heavy metals and vinyl, making wooden fences the cost-friendlier choice for front-yard and backyard enclosures.
VERSATILITY OF WOODEN FENCES
The nice thing about wooden fencing is the virtually unlimited versatility of style options. For example, depending on whether your property calls for privacy, border-enhancing, or security, your wooden fence can be designed with the following features:
Slatted or opaque
Wrought iron & wood combinations
Short or tall
Whatever your project may be, whether residential or commercial, we have experienced professional fencing technicians to help you choose the right fence for you.
Pool Fencing
In this part of the Texas, the hot sun invites us to sit around a pool whenever possible. We are fortunate to have pools as a very common feature in many homes, and they are nearly ubiquitous in apartment complexes, hotels, spas, and fitness centers. The architectural designs of many homes and businesses are built to accommodate a pool.
With this great luxury comes a high responsibility to keep children safe around the pool — and keep unwanted visitors out. For homes with children, pool fencing is an absolute necessity.
Some different styles to consider for pool fencing installation are:
Baby barrier fencing
Pool mesh chain link
Chain link
Wrought iron
Gates with locks
Even for above ground pools, fences are necessary to keep kids safe. We can custom design and install a portable fence that will move around your above-ground pool.
Another necessary safety feature for pool fencing is a gate lock. This is typically done in wrought iron, but a lock can be added to chain link fencing and most any other types of fencing.
It is important to consider the width of spacing on your wrought iron pool fencing enclosures. Pools are a big attraction for children, and if there is a way for them to slide through the bars, they will inevitably find it. One solution is to go with a more solid option for your pool fence. You have many design-conscious options, such as adding custom swirls or scrolls in between the bars on a wrought iron fence. Whatever your design goals, pool fencing can be visually pleasing while serving an important safety function.
Many people choose a wrought iron fence or gate for its timeless beauty and stately curb appeal. But wrought iron fencing has many practical advantages as well. Wrought iron fences are ideal for the following reasons:
Durable over the years
Courtyard fencing

Automatic swinging gates
Pool & yard security
Designed to increase your property values
Ornamental, classic, or custom design
Whether for your business or your home, wrought iron fences will last for years and years and hold their value.
Are you choosing a wrought iron design for your residential or commercial property? We can help you choose from several pre-formed designs to suit your property, or work with you to customize a design that will match other features of your property. Some things to consider if you are choosing a wrought iron fence for a commercial property where it will be used by the public are:
Is it safe for children (in case of jumping or climbing)?
Does it need additional grating to prevent animals from passing through?
We can meet with you to survey your property and provide an assessment of which features would best match your needs. Whether residential or commercial, we're here to help you choose the best design features for you.